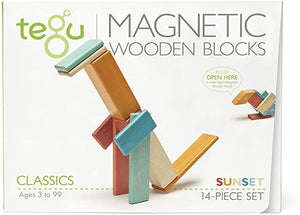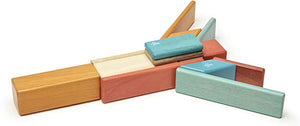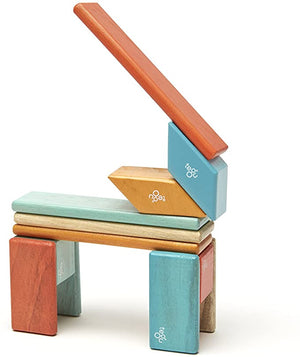 14 Piece Magnetic Wooden Block Set Sunset
The 14-Piece Set is an introductory building set, perfect for getting to know and love the Tegu magnetic wooden blocks system.



Includes 14 blocks in 5 shapes: 2 medium columns, 4 long planks, 4 short planks, 2 cubes, and 2 parallelograms
Fully compatible with ALL other Tegu Magnetic Wooden Blocks
Brilliantly simple and premium heirloom-quality toy that will last for generations
Curiously attractive and perfect for those seeking toys supporting open-ended and unscripted play
Naturally safe: no lead, no plastic, non-toxic, water-based lacquer finish, no small parts
Sustainably sourced hardwoods
Ages 3+
Origin: Designed in the USA, purposefully made in Honduras.
Materials: Eco-friendly, sustainably-sourced hardwoods. Safe, non-toxic, water-based lacquers (for colors and clear coats). As a vertically-integrated company, we intimately know our supply chain and suppliers.
Size: Total weight is 1.3 lbs.
Packaging: Tegu Blocks come packaged in a beautifully designed box.
Safety: This product conforms to most international safety requirements for toys, including regulations in the USA (CPSIA), Europe (EN71) and Canada (Health Canada, excluding Quebec).