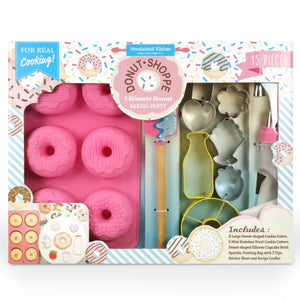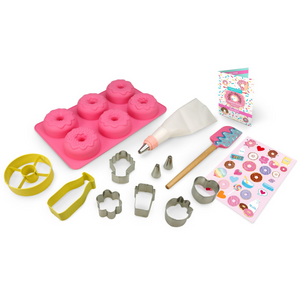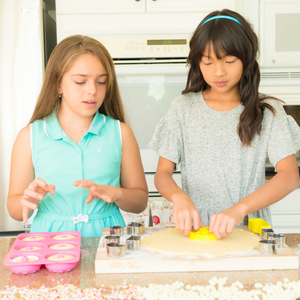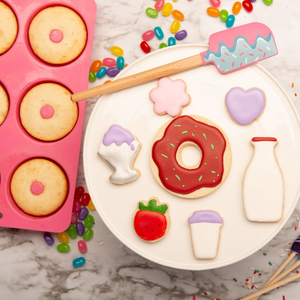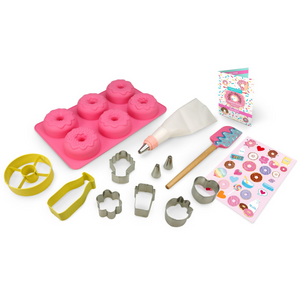 Donut Shoppe Ultimate Baking Party Set
Hole-y moly! Our best-selling donut-themed baking set for real kitchen use has everything little chefs need to create cupcakes, muffins, cookies and dozens of other delightful donut treats.
The 15 piece set for real kitchen use includes: 1 large donut and 1 milk bottle large stainless steel cookie cutter, 5 donut-themed mini stainless steel cookie cutters, 1 donut silicone mold, 1 silicone spatula, 1 frosting bag with 3 tips, a sticker sheet and recipe leaflet.

Recipes include: Donut Cake, Donut Sugar Cookies, Royal Icing and Donut Frosting.
Dimensions:
Packaged 14.25 x 2.37 x 10.12 in.
Spatula 8.75 x 1.75 in.
Cupcake Mold 10.75 x 1.25 x 6.5 in.
Cookie Cutters 2-5 in. (varies)
Donut Shoppe Collection

Materials/Care/Age Range

All baking sets features food grade BPA free materials that are reusable and made to last.
Silicone molds are oven, freezer, microwave and top rack dishwasher safe, and temperature safe from -40°F to 428°F (-40°C to 220°C).
Silicone utensils are top rack dishwasher safe. Stainless steel cookie cutters are top rack dishwasher safe. All other items may be hand washed.
Recommended for ages 6 and up.