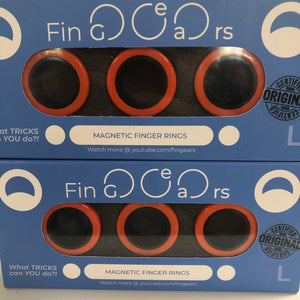 FinGears Large Black-Orange
https://youtu.be/Vd_n6rdKGg8FinGears are magnetic free-style rings unlike any other fidget or stress relief gadget. Spin them, do tricks, stick them to surfaces, play games with friends… the possibilities are endless!
Turbocharge your imagination, dexterity and wash away stress. Anyone can become a magnetic master!
Use the size chart image to help select your size. Lay your index finger on a ruler or tape measure. Your finger should fit inside the measurement to be sure it fits inside the rings with room to spin. You don't want the rings to be a tight fit. 
Set of 3 rings. 


Ages: 13+