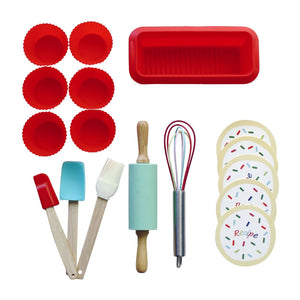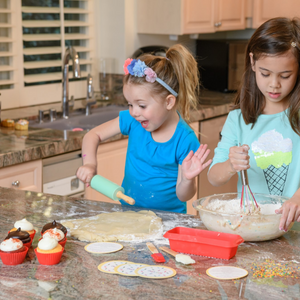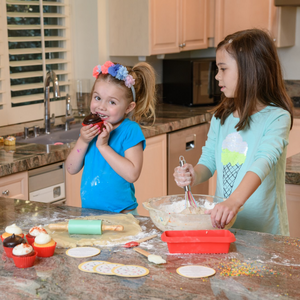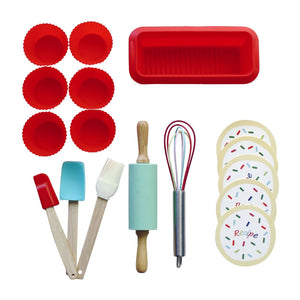 Intro to Baking
Start young chefs on the path to real baking fun with Handstand Kitchen's best-selling Intro to Baking set!  This 17 piece starter baking set has the essential bakeware, utensils and recipes for chefs of all ages to learn to bake cupcakes, muffins, cookies, cakes and more!
Includes: 1 silicone loaf pan, 1 silicone whisk, 1 silicone rolling pin, 1 silicone spatula, 1 silicone pastry brush, 1 silicone mixing spoon, 6 silicone cupcake liners and 5 recipe cards.
Recipes include: Apple Crisp Crumble, Chocolate Chip Cookies, Chocolate Dipped Shortbread Cookies, Very Vanilla Cupcakes and Fresh Strawberry Frosting.
Dimensions:
Packaged 10.75 x 2.12 x 12.25 in.
Cupcake Liners 2.75 x 1.25 x 2.75 in.
Loaf Mold 3.5 x 2 x 7.75 in.
Whisk 8.5 in.
Pastry Brush 1.25 x 0.37 x 7.25 in.
Mixing Spoon 1.62 x 0.5 x 7 in.
Spatula 1 x 0.37 x 6.62 in.
Rolling Pin 1.87 x 9 in.