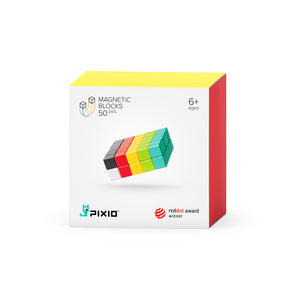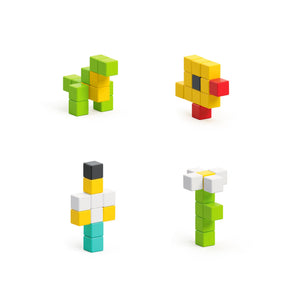 PIXIO-50
Item #20101
Age: 6+
50 magnetic PIXIO blocks
6 colors
PIXIO-50 is the first set in our PIXIO® DESIGN SERIES.
50 PIXIO blocks in six perfectly paired colors let you bring your creative ideas to life. Start by building simple models using the instructions, and then, when you're ready, move on to creating your own designs.
PIXIO-50 DESIGN SERIES includes six colors — black, white, red, green, yellow, and turquoise — that will help you transform simple shapes into recognizable figures. Use these colors, and you'll see how ten PIXIO blocks can give birth to a person, and twelve can give flight to a bird. 
Each PIXIO set will come along with a unique promo code, which gives access to the exclusive content of the app.
Download the free app (iOS & Android) to explore hundreds of interactive, 3D design ideas