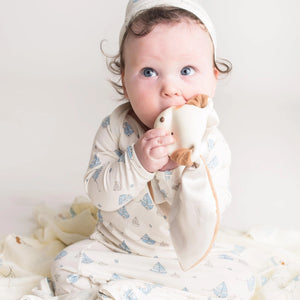 Skipit Puppy Ear- Resistible Teether
Babies can chew, snuggle, and be soothed all at the same time. All-natural rubber puppy head teether and silky-smooth brown velour and white satin ears. Handy extra set of detachable ears to change out for easy cleaning.  You can add a personal touch and get the ear of this teether embroidered with two lines up to 10 characters each. 
Perfect stocking stuffer for all those sweet babies in your life!
Size: 3"
Handwash and hang to dry. 100% Polyester and Natural Rubber. Imported.